DRYER VENT CLEANING
SUFFOLK COUNTY
CALL 631-474-1261
Dryer Vent Cleaning Service
Prevent Fire - Save Time - Increase Efficiency
Dyer Vent Cleaning in Suffolk County, NY:

When was the last time your dryer vent was cleaned?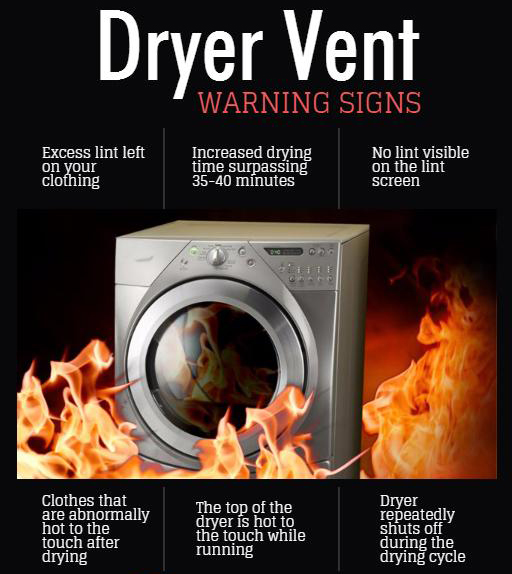 State law requires facilities to be fire hazard free and all dryer manufacturers require cleaning for safety and longevity. To keep your system safe and efficient, inspection and cleaning should be performed every 6 months to a year, depending on the amount of usage.
Our Dryer Vent service includes:

*Commercial Laundries
*Apartments
*Condominiums
*Townhomes
*Duplexes
*Single Family Homes
Dryer Vent Cleaning is a simple solution to many problems. Restricted airflow causes lint build-up and excessive heat can ignite materials in the dryer vent, resulting in a dryer fire. Due to this, the National Fire Protection Association recommends having your dryer vent cleaned annually. Most homeowners fail to include dryer vent cleaning on their list of yearly maintenance service calls. In 2005, the NFPA estimated that over 14,500 residential fires were caused by clothes dryer vents, causing over 440 injuries, including 14 deaths and over $207 million dollars in property damage.
When should you have your dryer vent cleaned?
Benefits of having your dryer vent cleaned! There are many benefits to having your dryer vent cleaned! The reasons for having it cleaned regularly are as follows:
*To avoid a potential fire hazard caused by lint build-up
*To improve your dryer's drying times
*To improve the energy efficiency (which saves you money!)
*To avoid costly repairs to your dryer
DRYER VENT CLEANING SUFFOLK COUNTY NY - CALL 631-474-1261
Proper dryer venting is much more important than most homeowners realize. Considering the stakes involved and the frequency of residential dryer fires, the topic of dryer venting deserves more attention than it gets.
In addition to the danger of fire, clogged dryer vents prolong drying time. This wastes energy and helps contribute to even more lint buildup.
A quick look behind just about any dryer can be illuminating. In most cases, the flexible duct (transition hose) is going to have multiple bends. In situations that can be very dangerous, the exhaust hose can be crushed against the wall.
Add lost socks, an empty fabric softener box and a considerable accumulation of lint dust and this very real fire hazard becomes obvious. All this is before looking inside the wall or at the exhaust system's outside termination.
Inside the wall, long duct runs with many elbows increase the rate of lint accumulation in the duct and in the dryer itself. Inefficient dryer vent terminations that are all too common also contribute to the problem.
While we strongly recommend that the lint screen be cleaned before every load, the fact is that lint still makes it past the filter. There are many reasons lint builds up in every dryer system. Some you can see. Some you can't.
WE PUMP AND CLEAN BASEMENTS !!
We will deal directly with your insurance company.
No OUT OF POCKET EXPENSES to You.
Major Credit Cards Accepted
We Accept Personal and Business Checks
Please Print Our COUPON SECTION for Discounts!
Lic # 108 W • 21302HI DEC # 1A777